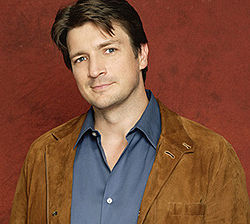 The popular OCLC record #703206540 has a fictional character as a main entry ("Richard Castle" of the television show "Castle").  I think this is interesting because:
It is a DLC record from May 2011, though this change was apparently made sometime Friday.  I wonder if it will stay that way?
There is an authority record for "Castle, Richard" (ARN 8643317) and it is an AACR2 record which allows name use, but asserts that the author is fictional.
 OCLC-CAT had a thread about this record on Friday, in which many said that the RDA rule of allowing fictional characters as main entries (Geronimo Stilton, Jessica Fletcher, etc) was more sensible and convenient than the AACR2 rule.
The LC call number has not caught up with the main entry — it is still PS3600.A1 (Works without any indication of author).
Update
Richard Castle's authority record has been deleted, and the bib record for Heat Rises has him properly transcribed in the statement of responsibility (but not main entry) with a note explaining that the book was fictitiously attributed to him.  We are back to full AACR2 behavior!  Richard Castle does not appear in the subject cataloging for the book, though the title of the television show is given as an added title entry.  I am happy to see some kind of access point, since its LC classification remains "no indication of author" and is cuttered by title, and I think this is a reasonable way to do it; in particular, I am always weirded out when I see records for Death of a salesman that include the subject term Loman, Willy (Fictitious character)–Drama, as though it is a larger genre.